Carrots
Summary
Carrots are one of the most recognizable and popular vegetables. They are not known to be a strong flavoured vegetable. They are extremely versatile and even common for baby food.

Types of Carrots
Carrots are cultivated to be mainly orange in colour but there are also white, purple and deep red coloured carrots.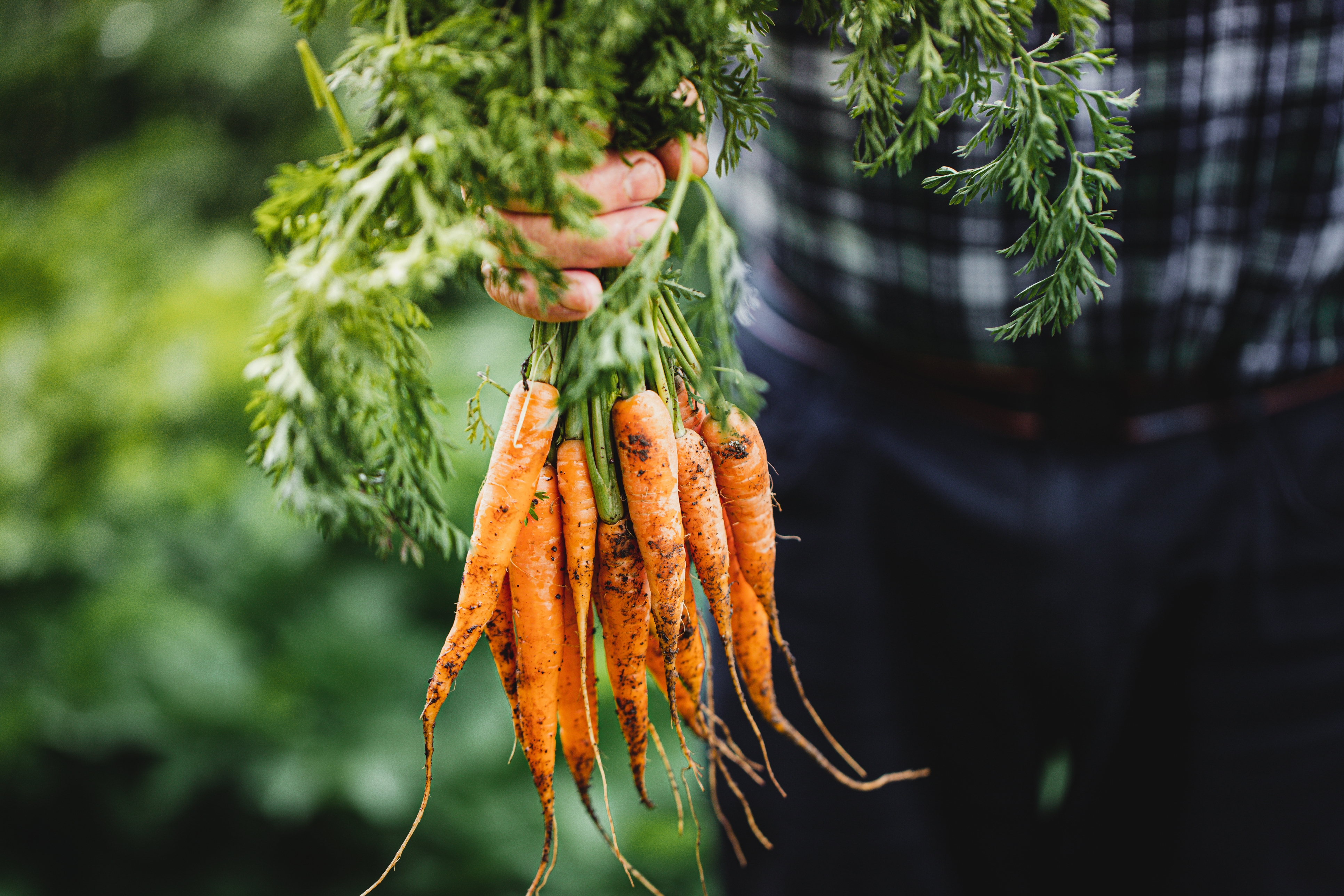 Full of antioxidants, Vitamin A, and potassium not to mention soluble fibre, carrots are a great way to add colour and nutritional value to meals.
Like other vegetables with thin skin, the majority of the vitamins are just under the skin so to maintain the flavour and nutrition, just scrub the carrots and do not peel them.
A bunch of baby carrots is a sign of spring with the Easter Bunny in mind. However, they grow bigger throughout the summer and are often used with other root vegetables in the fall and winter. Carrots are generally sold for their size.

Nantaise means carrots in classical French cuisine, referring to the city of Nantes in central France. Specifically, the Nantaise carrots are a long an elegant shape with a crisp texture. (Larousse Gastronomique, p 225)
Carrots can be eaten and cooked:
raw (shaved, sliced, grated, sticks)
grated into baked goods like muffins or cake (think of their high sugar content, texture, nutritional value, colour, and taste)
boiled, poached, simmered, blanched
roasted
grilled
pickled or marinated
stewed or braised
dehydrated for soups or used as powders
puréed
glazed
crusted
smoked
used as base of flavour like in mirepoix
Used in Mirepoix
Mirepoix is meant to contain around 25% carrots, 25% celery and 50% onions. Carrots are an important vegetable that every kitchen should have on-hand. They are used in so many classical savoury preparations but also contain a large amount of natural sugars. The sugars lend themselves to sweet preparations as well and carrot recipes often contain a touch of added sweeteners such as honey or maple syrup to "lift" the natural sweetness. Carrots are also one of the more common vegetables used in baking and pastries like carrot cake and carrot muffins.
Reviving Old Carrots
If carrots get limp due to dehydration, soak them in cold water for 10-15 minutes to revive them. If they are really old, then "split them in half and hollow them, discarding the yellow core" (Larousse Gastronomique, p 225). Have you ever noticed that one carrot can taste different from the next, or that the centre core is much more bitter than the outer ring?
More on Cooking Carrots
Some of our favourite videos