Parsnip
Summary
Parsnips are off-white root vegetables that look lie carrots. Parsnip, carrot, and parsley are all in the same biological family. In the cook's world, we put parsnips in with roots and tubers.
The girth of parsnips is much thicker on the stem and and quite thin on the root end, at least compared to most cultivated carrots we see. The grooves on the outside are quite pronounced. The flesh can seem a little more porous with a firm and fibrous core.
Parsnips are know to be quite sweet. Some say, too sweet to be a vegetable. They have a high starch and sugar content. Parsnips are mostly seen on tables in fall and winter. The colder weather makes parsnips sweeter in taste because the starches get converted to sugar from the cold.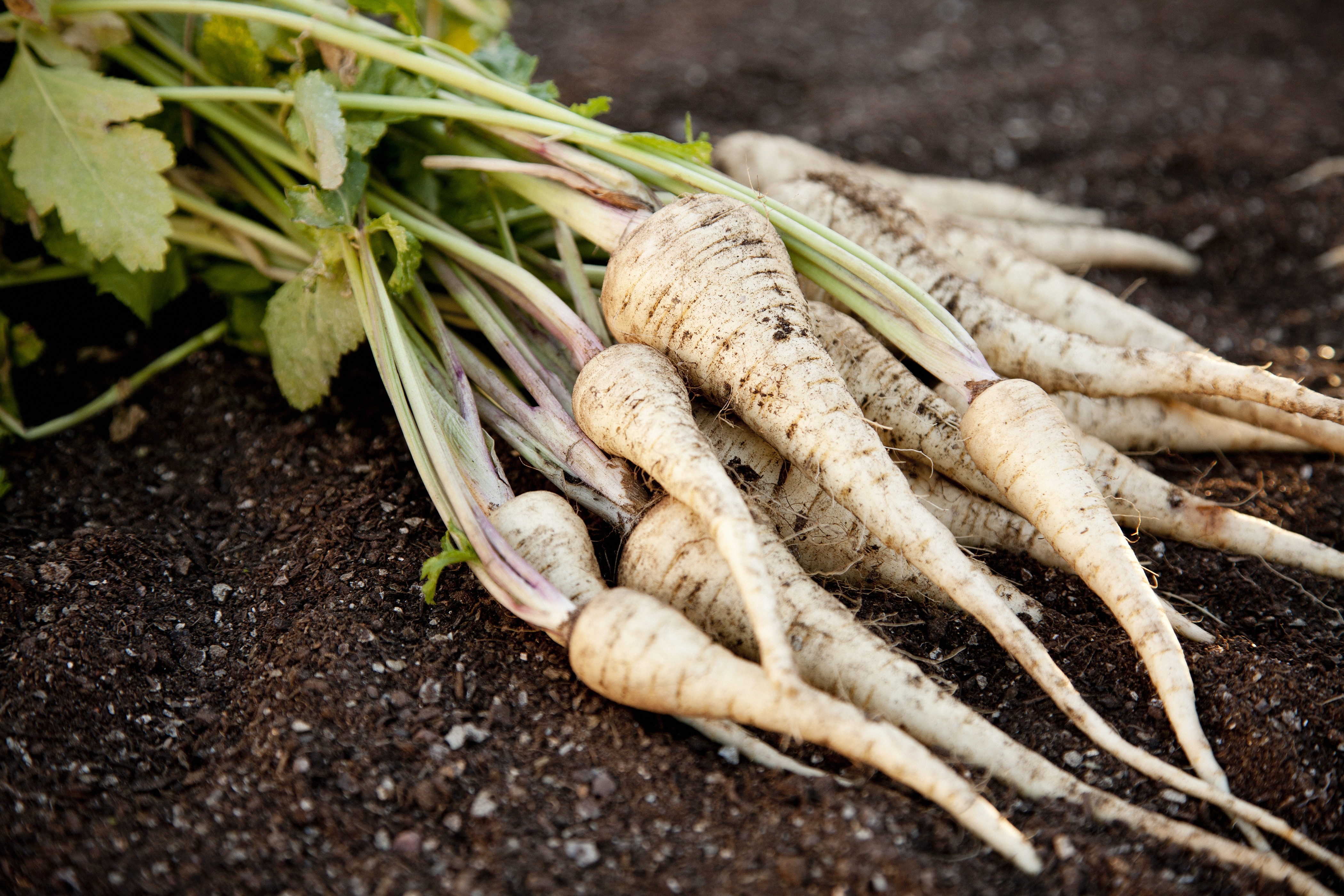 Parsnip is cultivated but it also grows wild in Alberta and other parts of Canada.
Wild parsnips are invasive. They destroy other native plants. The sap from this plant burns skin.
Foragers beware:
Native water hemlock looks a lot like parsnip and is toxic!
Parsnips are dominatingly sweet! Their taste is distinct, identifiable and can over-power other ingredients.
Because parsnips are naturally sweet, they are excellent roasted such as with other roots vegetables and onions. They can also be boiled, steamed, mashed, or stewed.
Eaten raw, they are good too. With the exception of the core, they are not quite as crunchy as raw carrots. Shaved in a salad can be lovely. Younger parsnips are better for texture.
Flavour-wise, parsnips pair well with other sweet ingredients like honey, onion, apples but also cream and herbs. In curries, they complement celery and cauliflower. Traditionally, parsnips are roasted with drippings from roast beef.
More on Cooking Parsnips
The Secrets of the Seed Vegetables, Fruits & Nuts
p 56