Chicory
Summary
Chicory is also known as endive, or Belgian endive or chicon in Northern France. So what is curly endive, frisée or whitloof chicory? Escarole? It's so confusing! To add to the confusion is radicchio which is another kind of endive.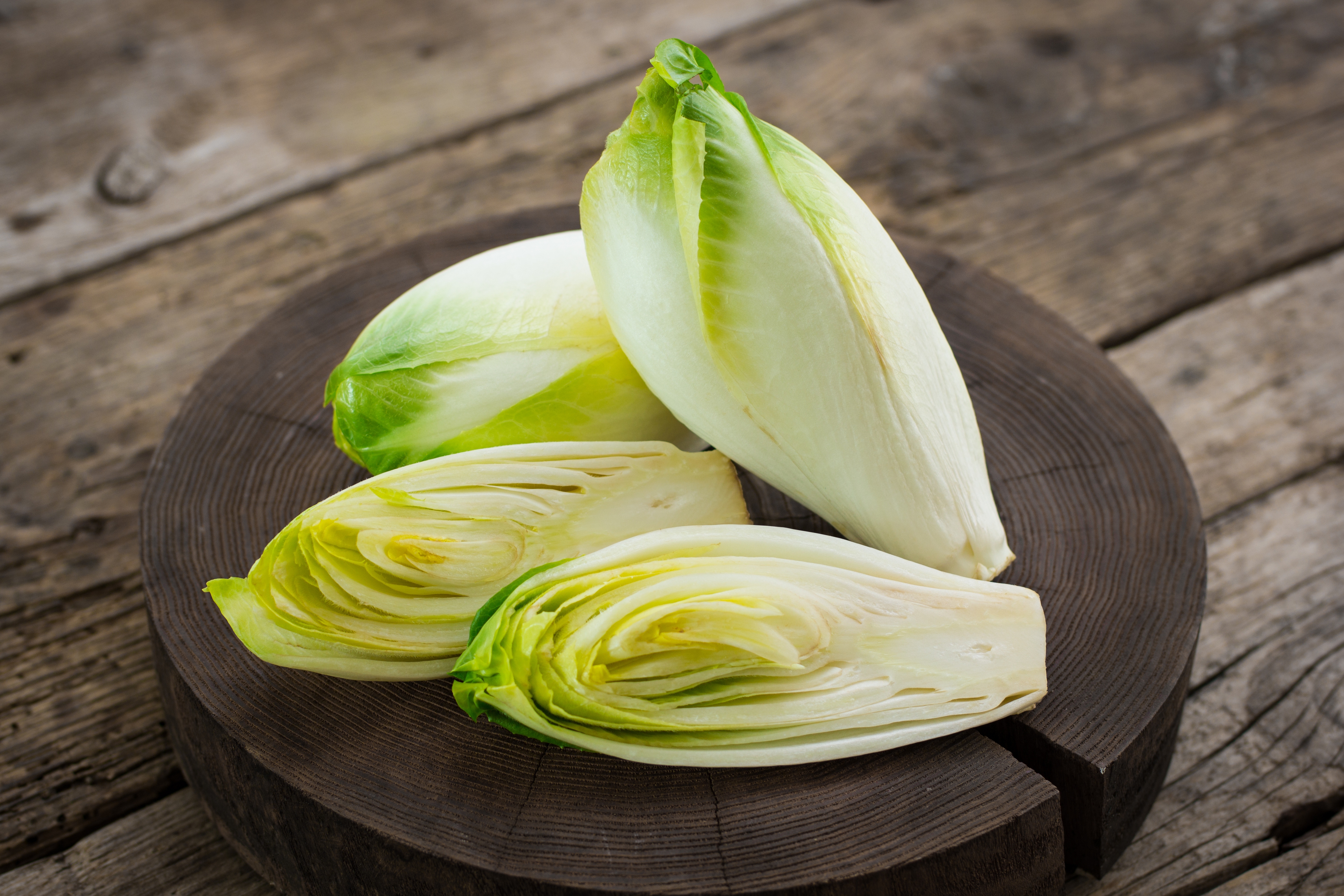 Endive is a grouping of bitter salad greens. Many other lettuces are summer vegetables but chicories are best in the fall and winter. There is:
Escarole
Curley Endive
Frisée
Belgian Endive
Radicchio
Escarole (broad-leaf endive) somewhat resembles green leaf lettuce in appearance. The leaves are tougher and bitter so leaves are often braised or combined with other greens and sprouts that aren't so bitter.
Heads of chicory (curly endive) are thinner and narrow compared to the broad-leaf variety. The ends of the leaves are quite curly and can add a nice texture to mixed greens or garnishes. Inner leaves are lighter green and yellowish.
Frisée is the same species at curly endive but the skinny leaves are even thinner due to the way the plant was grown. The finer, feathery leaves are even more delicate as a garnish or mixed with other greens. The leaves look dainty and slender (cut curly) yet they are firm like other chicories so they hold up on plates a little better. The head grows splayed out and wide so it is easy to see the inner yellow leaves.
Belgian endive (whitloof chicory) is very pale, with slender leaves that are yellow on the tips. The leaves are firmly packed and smooth with a slight waxy feel to them. They are laborious to grow. They must stay out of sunlight to keep them pale. A Belgian botanist named Brézier developed the cultivation practice.
Radicchio is an Italian variety. It has a round head with tight, purple leaves and white veins.
Chicory for Coffee
There is another type of chicory plant--the one that is grown for coffee-like beverages! The roots of chicory can be dried, roasted and ground, then infused in hot water much like coffee beans. (Remember the bitterness in coffee too.) There is increasing discussion about the sustainability of the coffee industry which has faced criticism for decades about the lack of fair trade practices, child labour rights, ecological footprint and transportation concerns. So, if an Albertan wanted to truly follow a "local" diet they could brew a cup of chicory root in the morning rather than a fine arabica blend.
Chicories are of course known for their bitterness and crisp leaves. Taste being the most important part of cooking requires a balance of the bitterness.
In salads, bitter greens are often mixed with other types of lettuces, herbs and sprouts. A nice combination can be eye-appealing, have a nice texture, and beautiful colours and shapes. Some classic flavour pairings include using endive with beets, orange or grapefruit, blue cheese, apples or plums, almonds or walnuts, mustard, eggs, and bacon.
Because chicories are grown in cooler temperatures, they are suited to warm components on salads such as a warm vinaigrette, a poached egg or a toasted ingredient.
For hot preparations, chicories maintain their shape and texture relatively well. Their taste also mellows out when cooked. A simple braise with white wine is nice and easy. In Northern France, they are know for their endive au gratin.
More on Cooking Chicory
Some of our favourite videos